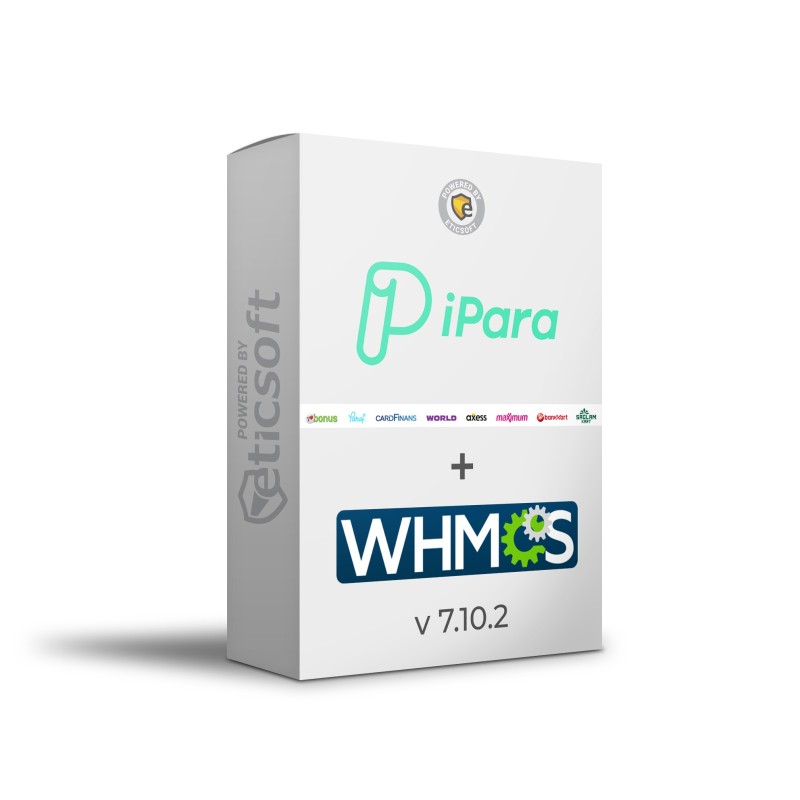  
WHMCS iPara Sanal Pos Modülü (v7.10.2)
Banka havalesi ile ödemede (5.99%) İndirim Fırsatı!
KDV Dahil: ₺0.00
WHMCS için taksitli sanal pos ödemesi alabileceğiniz iPara Sanal Pos modülüdür.
UYUMLULUK: v7.10.2 ve üzeri
DETAYLI BİLGİ MODÜLÜN İÇİNDEKİ DOKÜMAN DOSYASINDADIR
GENEL BİLGİLER ve DESTEK

Bu ödeme modülü (payment gateway) sadece WHMCS (whmcs.com) yazılımını kullanan ve iPara Ödeme Kuruluşu A.Ş. (ipara.com) mağaza hesabı olan web sitelerinde tahsilatın kredi kartı ile iPara üzerinden (çevrimiçi) yapılmasına olanak sağlar.

Modül tamamen açık kaynaklı olarak yazılmıştır. Kullanım şartlartına (bkz 1.2) sadık kalınması şartıyla her türlü değişiklik ve geliştirme yapılabilir.

Teknik destek taleplerinizi ve sorularınızı ipara.com adresine iletebilirsiniz.

WHMCS 7.10.2 ve üzeri için uyumludur. Önceki sürümler için test edilmemiştir. WHMCS yazılımının gereksinimlerinden farklı bir gereksinimi yoktur.

Bu modül ile 3D Secure veya doğrudan ödeme (API) yöntemlerini kullanarak ödeme alabilirsinz.

Yabancı para birimlerdeki ödemeleri TRY (Türk Lirası) olarak çevirip ödeme alır. (bkz. KURULUM #6)
4 other products in the same category:
No customer reviews for the moment.