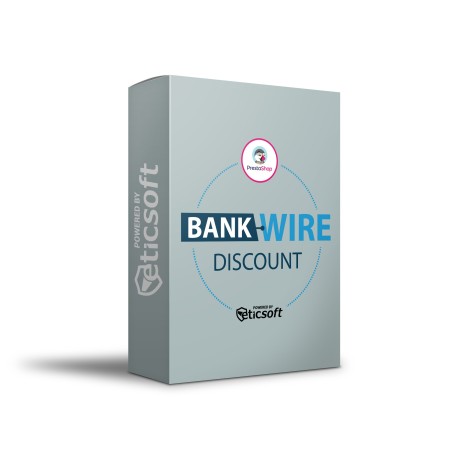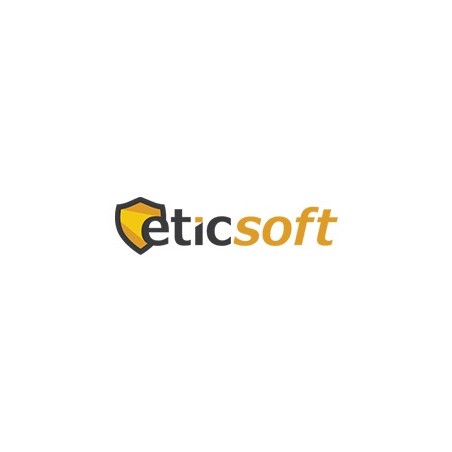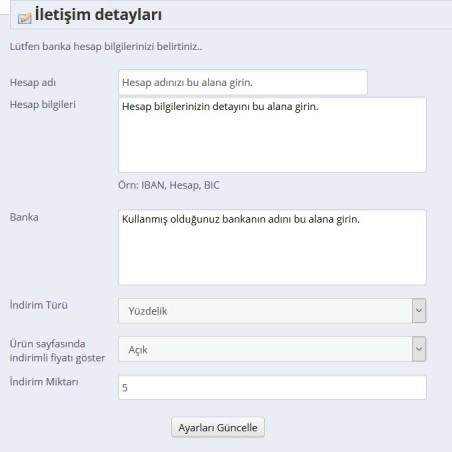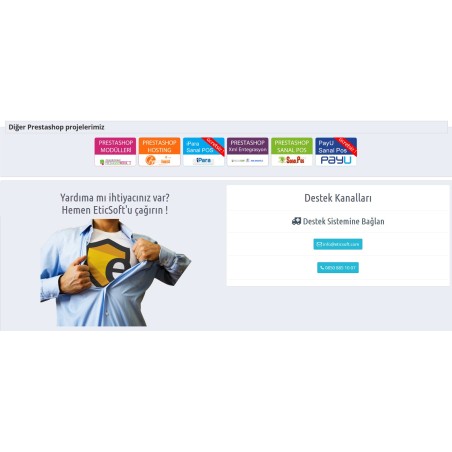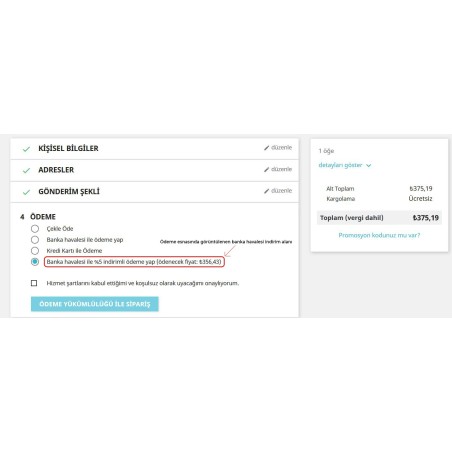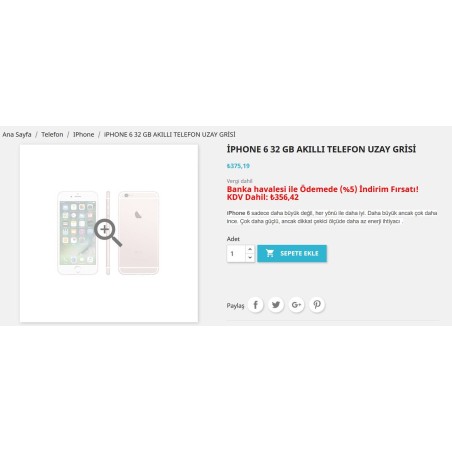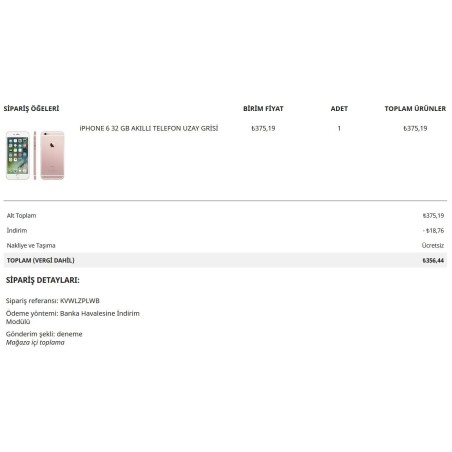 Prestashop Bankwire Transfer Discount Module
In Stock
Banka havalesi ile ödemede (%5.99) İndirim Fırsatı!
KDV Dahil: ₺1,373.75
Compatibility: v1.6.x.x -

v1.7.x.x
It is a module that allows you to make discounts to your customers who want to pay by bank transfer. It also shows the discounted fee on the page of each product. (such as 99.00 TL by wire transfer)
They receive a transaction fee / commission using the payment method. Because the bank transfer doesn't receive this type of commissions is more attractive .This is the reason why many stores offer discounts on bank transfers. generally discount of 2 or 3 percent was made.
Modules general features
By selecting a bank transfer, it opens the discount at the rate you specify and automatically processes the order.
It also shows the remittance discount price at the bottom of each price. You can turn off this notation.
You can choose the discount as a percentage or quantity. There's no need for kernel modifications. In the administration panel, select the relevant discount about order management or edit.
In Customer's order design page, informations about PDF invoice, etc. discoint is shown. you can do the installation in easiest way with "Add new module" from the administration panel.
In addition, as usual
Free technical support
Free updates (for versions 1.6 and 1.7)
Free installation (you can install it by yourself very easy)
Customers who bought this product also bought:

| Ins. | Monthly | Total |
| --- | --- | --- |
| 1 | ₺1,461.28 | ₺1,461.28 |
| 2 | ₺759.87 | ₺1,519.73 |
| 3 | ₺511.45 | ₺1,534.35 |
| 4 | ₺387.24 | ₺1,548.96 |
| 5 | ₺312.71 | ₺1,563.57 |
| 6 | ₺263.03 | ₺1,578.18 |
| 7 | ₺227.54 | ₺1,592.80 |
| 8 | ₺200.93 | ₺1,607.41 |
| 9 | ₺180.22 | ₺1,622.02 |
| 10 | ₺163.66 | ₺1,636.64 |
| 11 | ₺150.11 | ₺1,651.25 |
| 12 | ₺138.82 | ₺1,665.86 |

| Ins. | Monthly | Total |
| --- | --- | --- |
| 1 | ₺1,461.28 | ₺1,461.28 |
| 2 | ₺759.87 | ₺1,519.73 |
| 3 | ₺511.45 | ₺1,534.35 |
| 4 | ₺387.24 | ₺1,548.96 |
| 5 | ₺312.71 | ₺1,563.57 |
| 6 | ₺263.03 | ₺1,578.18 |
| 7 | ₺227.54 | ₺1,592.80 |
| 8 | ₺200.93 | ₺1,607.41 |
| 9 | ₺180.22 | ₺1,622.02 |
| 10 | ₺163.66 | ₺1,636.64 |
| 11 | ₺150.11 | ₺1,651.25 |
| 12 | ₺138.82 | ₺1,665.86 |

| Ins. | Monthly | Total |
| --- | --- | --- |
| 1 | ₺1,461.28 | ₺1,461.28 |
| 2 | ₺759.87 | ₺1,519.73 |
| 3 | ₺511.45 | ₺1,534.35 |
| 4 | ₺387.24 | ₺1,548.96 |
| 5 | ₺312.71 | ₺1,563.57 |
| 6 | ₺263.03 | ₺1,578.18 |
| 7 | ₺227.54 | ₺1,592.80 |
| 8 | ₺200.93 | ₺1,607.41 |
| 9 | ₺180.22 | ₺1,622.02 |
| 10 | ₺163.66 | ₺1,636.64 |
| 11 | ₺150.11 | ₺1,651.25 |
| 12 | ₺138.82 | ₺1,665.86 |

| Ins. | Monthly | Total |
| --- | --- | --- |
| 1 | ₺1,461.28 | ₺1,461.28 |
| 2 | ₺759.87 | ₺1,519.73 |
| 3 | ₺511.45 | ₺1,534.35 |
| 4 | ₺387.24 | ₺1,548.96 |
| 5 | ₺312.71 | ₺1,563.57 |
| 6 | ₺263.03 | ₺1,578.18 |
| 7 | ₺227.54 | ₺1,592.80 |
| 8 | ₺200.93 | ₺1,607.41 |
| 9 | ₺180.22 | ₺1,622.02 |
| 10 | ₺163.66 | ₺1,636.64 |
| 11 | ₺150.11 | ₺1,651.25 |
| 12 | ₺138.82 | ₺1,665.86 |

| Ins. | Monthly | Total |
| --- | --- | --- |
| 1 | ₺1,461.28 | ₺1,461.28 |
| 2 | ₺759.87 | ₺1,519.73 |
| 3 | ₺511.45 | ₺1,534.35 |
| 4 | ₺387.24 | ₺1,548.96 |
| 5 | ₺312.71 | ₺1,563.57 |
| 6 | ₺263.03 | ₺1,578.18 |
| 7 | ₺227.54 | ₺1,592.80 |
| 8 | ₺200.93 | ₺1,607.41 |
| 9 | ₺180.22 | ₺1,622.02 |
| 10 | ₺163.66 | ₺1,636.64 |
| 11 | ₺150.11 | ₺1,651.25 |
| 12 | ₺138.82 | ₺1,665.86 |

| Ins. | Monthly | Total |
| --- | --- | --- |
| 1 | ₺1,461.28 | ₺1,461.28 |
| 2 | ₺759.87 | ₺1,519.73 |
| 3 | ₺511.45 | ₺1,534.35 |
| 4 | ₺387.24 | ₺1,548.96 |
| 5 | ₺312.71 | ₺1,563.57 |
| 6 | ₺263.03 | ₺1,578.18 |
| 7 | ₺227.54 | ₺1,592.80 |
| 8 | ₺200.93 | ₺1,607.41 |
| 9 | ₺180.22 | ₺1,622.02 |
| 10 | ₺163.66 | ₺1,636.64 |
| 11 | ₺150.11 | ₺1,651.25 |
| 12 | ₺138.82 | ₺1,665.86 |

| Ins. | Monthly | Total |
| --- | --- | --- |
| 1 | ₺1,461.28 | ₺1,461.28 |
| Ins. | Monthly | Total |
| --- | --- | --- |
| 1 | ₺1,461.28 | ₺1,461.28 |
| 2 | ₺759.87 | ₺1,519.73 |
| 3 | ₺511.45 | ₺1,534.35 |
| 4 | ₺387.24 | ₺1,548.96 |
| 5 | ₺312.71 | ₺1,563.57 |
| 6 | ₺263.03 | ₺1,578.18 |
| 7 | ₺227.54 | ₺1,592.80 |
| 8 | ₺200.93 | ₺1,607.41 |
| 9 | ₺180.22 | ₺1,622.02 |
| 10 | ₺163.66 | ₺1,636.64 |
| 11 | ₺150.11 | ₺1,651.25 |
| 12 | ₺138.82 | ₺1,665.86 |
Other Cards
You can pay ones way (without installment) via all visa/mastercard/amex credit cards, also debit cards
---